Buy your tickets here for the most loving spiritual event in the Netherlands!
Tickets:
Junior (0-12 jaar) One Day Ticket
Don't forget to add Ceremonies and Workshops in your cart.
See more information down below.
Aankomend evenement in het Sportcentrum Ookmeer
Spiritual Experience Event (02 & 03) - 09 - 2023
De derde editie van het spiritual experience event zal op 2 & 3 september plaatsvinden in het sportcentrum Ookmeer (Amsterdam). Het wordt de grootste spirituele beurs van Amsterdam en zeker de meest liefdevolste van heel Nederland.

Om 10:30 beginnen wij met de opening drumcirkel ceremonie. Wij kregen bij de vorige edities hier zoveel complimenten over dat wij het zeker nog een keer doen!
De twee zalen zijn te betreden van 11:00 t/m 17:00, op beide weekend dagen. Voel je vrij om elk moment op de dag langs te komen en maak er een dagje uit van met al je vrienden en/of familie. Ontmoet andere spirituele mensen die dezelfde interesses als jij hebben.

Bij binnenkomst ontvangt u deze editie natuurlijk weer een liefdevolle edelsteen. De eerste paar bezoekers ontvangen van ons ook een goodie bag, dus wees er snel bij!
Onze standhouders zijn geselecteerd op hun kwaliteit en op hun liefdevolle hart. Het evenement staat in het teken van eenheid en liefde. Bij ons vorig evenement gaf iedereen aan dat er een fijne, rustgevende en liefdevolle energie te voelen was.
Algemene informatie
Alles staat in het teken van eenheid en liefde. Op het evenement hebben wij een verdeling gemaakt tussen verkoop-, behandel en consult standhouders. De verkoopstands hebben een heel groot (verschillend) assortiment wat te maken heeft met alternatieve geneeswijze. De behandelaars bieden specifieke geneesmethodes aan waar zij zich jarenlang in hebben verdiept. De consult stands zijn er om u meer inzicht te geven over de verschillende vragen die je graag beantwoordt wil hebben.

Het evenement bevindt zich binnen in de sporthal, atletiek hal, vergaderruimte (2x) en kantine (horecagelegenheid binnen en buiten). De standhouders die een reading of behandeling geven mogen €1 per minuut vragen, met een maximum van een 1 uur (€60). 
1e editie
Een geweldig evenement die werd gehouden in het dorpshuis van Zwanenburg.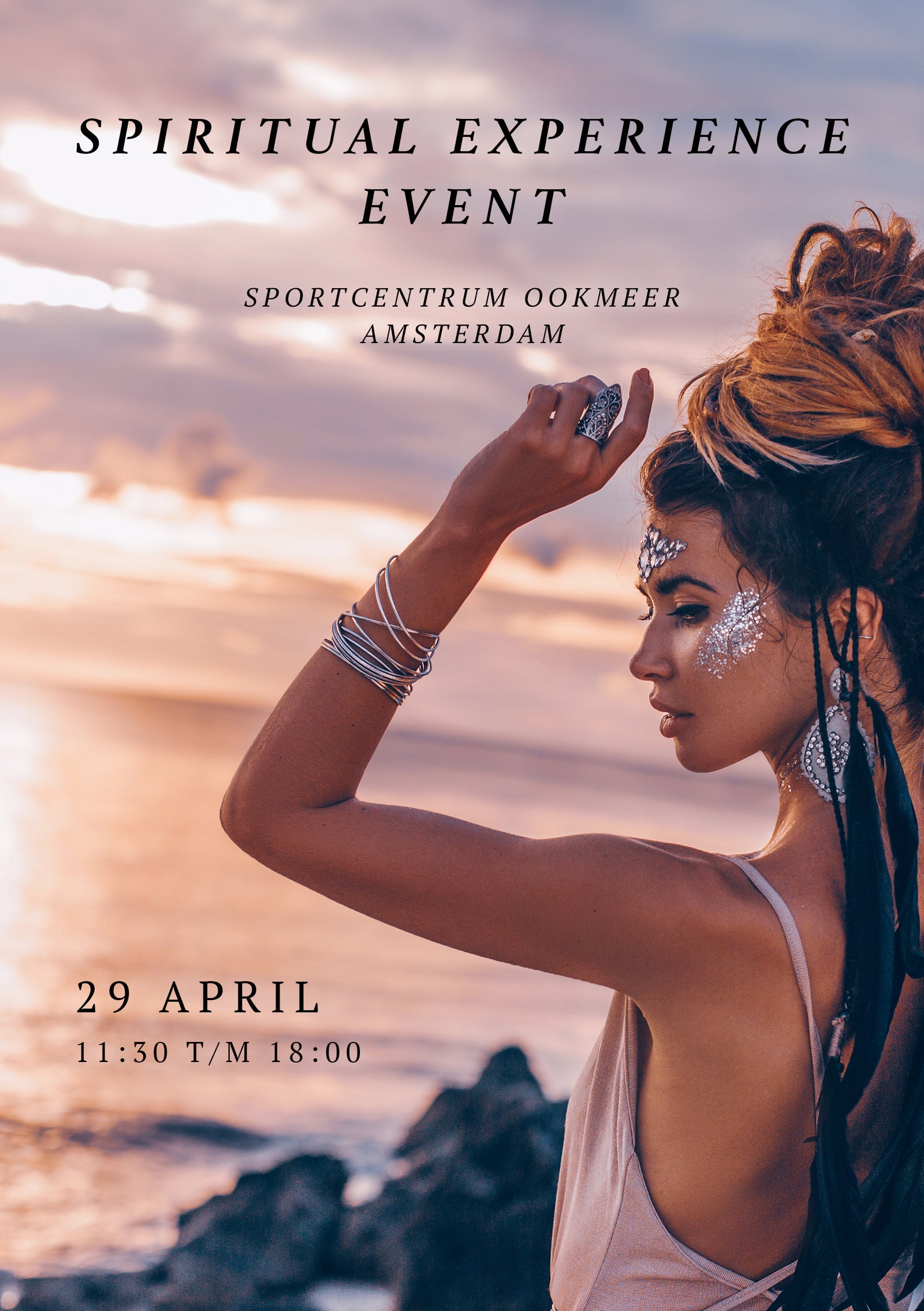 2e Editie
Een nieuwe uitbreiding met 4x zoveel meer ruimte dan de eerste editie, te realiseren in het Sportcentrum Ookmeer.
3e Editie
Een geheel weekend vol met vernieuwde activiteiten. De liefdevolle experience die iedereen verdient!
Smudging
Gratis je Aura laten Reinigen
Het vrijwilligers team staat klaar om jouw aura helemaal te reinigen. En als ze een boodschap door krijgen, geven ze die ook door.
Aura reiniging of smudgen genoemd. Is het reinigen van de aura doormiddel van salie te branden en in de aura met een veer de zware negatieve energie weg te halen.
De vrijwilligers herkent u aan de buizerd veren in hun haar. Het zijn voornamelijk oud studenten van de Opleiding Sjamanistisch Therapeut die hun liefde en healing vanuit hun hart geven.
Ceremonie Programma
Ceremonies
Ervaar de openingsceremonie voor standhouders en bezoekers die gratis toegankelijk is. Dit is de gift die shaman Mother Mother jouw die dag mee wil geven. Let Love Rule en je hart verbonden is met ieder die aanwezig is. Inlinemend staan met de goddelijke bron en moeder aarde.
Dit is een ervaring die je nooit zult vergeten.
Wij bieden ceremonies aan wat wordt ondersteund door een medicijnwiel dat is gebouwd door een echte sjamaan (Shaman Mother Mother). Tijdens deze ceremonies zul je de energie voelen van het krachtwiel en van de mensen die dit begeleiden. De kosten voor een ceremonie is €19,99 p.p. terwijl dit normaal gesproken kan oplopen tot €50+, een super deal dus!
Wil je jouw plek alvast reserveren? Bestel dan één van de hieronder aangegeven activiteiten.
Workshop Programma
Er zijn zoveel verschillende leuke activiteiten die wij zullen gaan aanbieden. Deze workshops hebben te maken met spiritualiteit en vermaak. De kosten zijn €14,99 om deel te mogen nemen aan de workshop. Er worden nog extra kosten berekend voor de materiaalkosten. Iedereen kan zich opgeven hiervoor totdat de plekken vol zitten.
Wil je jouw plek alvast reserveren? Bestel dan één van de hieronder aangegeven activiteiten.
Lezing Programma
Wij geven, net zoals de vorige edities, weer gratis lezingen over het spiritualisme. Wij vinden het belangrijk dat iedereen kennis kan opdoen zonder dat dit ten koste gaat van iedereen zijn portemonnee. Je krijgt informatie over allerlei verschillende onderwerpen die in het spirituele & paranormale wereld aanbod komen.
Wil je jouw plek alvast reserveren? Bestel dan één van de hieronder aangegeven (gratis) activiteiten.
Elke week een nieuwe update
Standhouders Line-Up
Consultanten
Mieke Janssen - de Spirituele
Ontmoeting - website
Chiquita Stolting - Spiritual4u - website
Bianca van As - Gegrond Gezond - website
Gita Basant - Gita - website
Dulari Bihari - Dulari - website
Piet van Duijn - Medium piet - Website
Natascha Vollebregt - Natacha - Website
Max Nieuwenhuis - Sjamaan
White wolf - Website
Hans Rietveld - Hans - Website
Edith Pieterson - Edith Pieterson Spirituele Coach - Website
Monique Evers - Printparadijs Monique Evers Spiritual
Coach - Website
Willem v.d. Weide - Healing
Flow - Website
May Koenders - Avé Anahata - Website
Miranda van der Kwaak - ToBeYou - Website
Querine van Emmerik - QDLD - Website
Dennis Gerretsen - Denger - Website
Riet Bomhof - Riet - Website
Monique van Bodengraven- van der Klugt - Soul to Soul
by Monique - Website
Angela Kuiper-Kwakkel - Kwakkel Health & Care - Website
Bianca Boot-Bos - Nurture Nature - Website
Maria Peen - White Spirit Spiritual Healing Centre Healing - Website
Valerie Cornet - Your sunshine - Website
Ramsay van Rhein -
Marina van de Put - Praktijk Lotus Beauty & Healing - Website
Ivy Sadhoe - Ivy - website

Arold Shaman protector of the heart - Arold - website
Angelique van der Klugt - Angelique- website
Frank van der Pauw Kraan -frankheeltmetengelen - Website
Gerda Boere - Gerda - Website
josafina -
Navayo Leeuwin - Navayo- Website
Miranda van der Vlies-Zeeman - Miranda - Website
Renate de Goede - de goede Coaching - Website
Lisa van Heeren - LearnToLoveYourself Coaching - Website
Fabiola Tjoe-Awie - Fabiona - Website
Joep van Sonsbeek - Ankh of light - Website
Manouschka Sap-Faber - Vrouw-Vitaal - Website
Desiree van Toor - Astrologe Desiree G.E. van Toor - Website
Joan Tjioe - Joans-Flow - Website
Ferrina Strengnaerts - Ferrina Inspires - Website
Tanja Felix-Engl-Pavlovic - White Hawk - Website
Marilena Nap Ghebea - Spirit Paradise - Website
Behandelaars

Britta van Arman - Living Chi Amsterdam - Website
Lesley Piccardt - Black Crow Dakota - website
Nienke Hoogstraten - Zelfcetera - Website
Hanneke Coenraads - Magical Healing Touch - Website
Annette Kloosterboer - praktijk Annette Kloosterboer - Website
Nathasja Gootjes - Helderheid
Coaching en Training - Website
Anna van Bergenhenegouwen - Praktijk Anna
van Bergenhenegouwen - Website
Paul Kramer - Pakraspirit -Website
Sylvia Korthuis - Energetix - Website
Jacqueline Doorduyn - Praktijk Trager moves you - Website

Miranda Peters-Mesters - Terugkeer naar verbinding - Website
Caroline Klein - Expandmoreandmore - Website
Sanne Croese - Body and Soul by Sanne - Website
Alex Korengevel - alex massage breda - Website
Silvia Hoevenaar - Key To health - Website
Denise Hoorens van den Berg -ZD Angel healing - Website
Jacqueline Doorduyn - Praktijk Trager moves you - Website
Kris Arns - Indigo Flow - Website
Esther Ruiter - Shamanita - Website
Nelly Verhagen- Praktijk Nelly Verhage - Website
Johan Verhagen -
Charlotte Symens - Het mooiste licht - Website
Esther Ruiten - Esther Ruiten - Website
Paul Vossen - Vossenpraktijken - Website
Verkopers
Nancy Imanredjo - Naimsa Design - Website
Kim Waret - Kim's Orgonites enzo - Website
Marianne van der
Mast-Verduin - The Native Dutch Clan - Website
Ronald Droog - Trommelentassenenzo - Website
Sandra te Hennepe - Wellness 4Us Energetix - Website
Anne Haesevoets - Twinkel@home - Website
Charlotte Aliyah - Heart of Gi - website
Roxanna Knaap - Roxanna Varinia - website
Anton Vd werf - Earth Magic - website
Leo Kortz - Mokaistones - Website
BrigitteTopman - Spirits of
light - Website
Claudia Doolhoff - Anima Lucerna - Website
Ellen Van der Kleij - Veenheks - Website
Frank van Eekelen - Frankenvrijboeken - Website
Jan Lont - ABC-Energetics - Website
Wilma Stokkum - Devi Water - Website
Anita Kulker - Reiki online - Website
Saskia Vorkink - Saskia Vorkink sieraden - Website
Mischa Spreeuwers - Healingwand - Website
Rebecca Feyen - Rebeccamiek - Website

Charlotte Van luling - Charly's Stone carvings and more - Website
Monica de Bruin - 4 Ever Health
& Beauty - Website
Hadewijch Gerlof - Itss-Creation - website
Jurgen Jansen - De lachede boedha - Website
Marius Hermes - Esivah- Website
Roxana Corvers - Gipsy Moonstone - Website
Fawzia Mokkum - Aurynhealing- Website
Manon van der Kooi - Nonie2012 - Website
Monique Egberts - Siri Sant - Website
Diane De ligne - Magie van éénheid - Website
Carla Bleijenburt - Stones 4 You - Website
Roy Danen - CBD-R - Website
Jorge Valencia - Tribes Movement - Website
Tessa Brands - Tessa Brands - Website
Hugo Bikker - St. Abonawina - Website
Veerle Joossens en Bart - Samelife coaching - Website
Lila van Swieten - Lila Pixie - Website
The Spiritual Experience Feeling